Nissan Innovation: Brake Override Technology
Brake Override Technology - The story of a Nissan innovation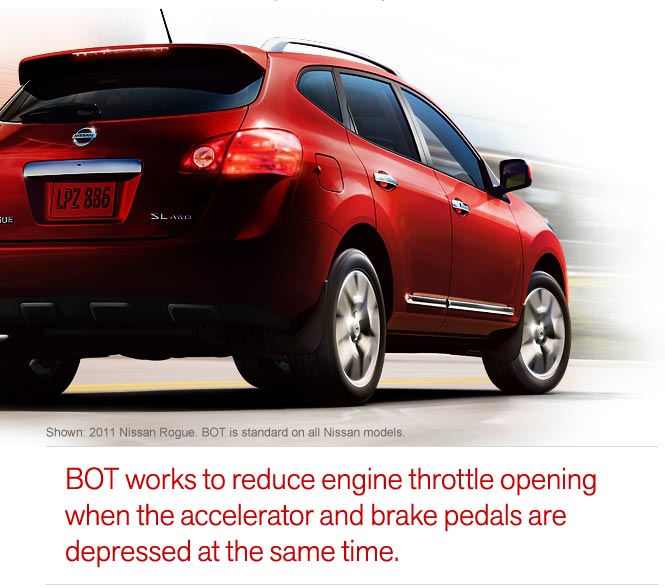 All current Nissan vehicles feature Brake Override Technology (BOT) to help drivers bring the vehicle to a stop in certain emergency situations. Here's what it does and how it came about.
A second way to stop

Nissan vehicles equipped with Push Button Ignition also have an Emergency Engine Shut-off System. With this technology, you can quickly shut down the engine by rapidly tapping the ignition button three times, or pressing it for more than two seconds.
Most vehicles today use an electronic drive-by-wire system to control the throttle instead of a mechanical cable throttle system. When the driver presses the accelerator pedal, this electronic system provides coordinated communication among the vehicle's major drivetrain components to help maximize engine efficiency and improve performance.
Back when Nissan was developing its drive-by-wire system, one Nissan engineer came up with an innovation that set Nissan apart. It happened when Yuichi Murakami, who is currently an Expert Leader in the Total Customer Satisfaction Function team, was sipping his tea one morning as he read the newspaper.
His eye fell on a small article that told of the investigation into an aviation incident in which a pilot lost control of his airplane. The investigation concluded that the trouble had occurred because the plane had been flying on autopilot.Yuichi Murakami
Although the pilot had attempted to pull the nose of the plane up out of trouble, the automated mechanism had overridden him. In other words, thought Murakami, if only the system had given precedence to the pilot instead of the machine, might he have been able to control the plane that day?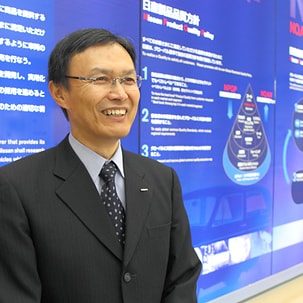 Yuichi Murakami
At that moment, Murakami was convinced that the electronic accelerator system he was involved in developing must be a system that respected human will.That conviction led to Nissan developing its Brake Override Technology before any other Japanese car manufacturer. The system helps limit engine output during emergency situations when both the brake and accelerator pedals are being pressed at the same time. It overrides the input from the accelerator pedal if the brake pedal is also applied.
Nissan introduced Brake Override Technology on select models in model year 2002 and made it standard on every Nissan vehicle for model year 2005.